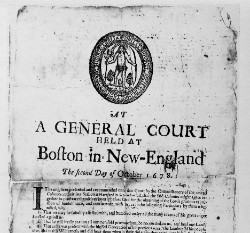 Almost every thanksgiving proclamation that could be found regarded the day to be religious either in it's entirety or in some related manner. Starting from the beginnings of the colonies to this past year.
...prostrate themselves jointly before God for the obtaining of the Lords gracious expression... That a spirit of conversion be poured upon our Children, that they may give up themselves and their Seed after them to be the Lords...1
General Court, Boston, New England 1678
...a solemn day of thanks giving; to render praises to Almighty God...by the great and good providence of Almighty God... Ministers and Preachers of the word of God, and all other persons ... required strictly to observe... at their Churches... they will answer the contrary at their peril.
Governor in chief Benjamin Fletcher, New York 1696
It is the duty of all nations to acknowledge the Providence of Almighty God... acknowledging with grateful hearts the many and signal favors of Almighty God, ...unite in most humbly offering our prayers and supplications to the great Lord... to promote the knowledge of true religion...
George Washington, New York 1789
In obedience to law and custom I do hereby set apart and appoint ... a day of SOLEMN AND PUBLIC THANKSGIVING To Almighty God
L. F. Hubbard, Governor of Minnesota 1885
...a holiday that unites citizens from every culture, race, and background in common thanks for the gifts we receive from God.
William J. Clinton 1995
Let us give thanks for all we have been given and ask God to continue to bless our families and our Nation.
George W. Bush 2007
... we give thanks to each other and to God...
Barak Obama, 2011
Historical records indicate that there have literally been
thousands
of thanksgiving proclamations throughout the history of the United States. Each state, colony and territory declared days of thanksgiving as they saw fit. Later the states also were compelled to proclaim days of thanksgiving in conjunction with presidential requests, so far none have been found to be purely secular in origin.
References
---
Thanksgiving